Digital stone planning is the link that connects all the different stages and participants of a project, from quarrying to the final installation. Today, we'll have a look at how to use digital stone planning to integrate stone installations into BIM 360.
What is BIM?
Building Information Modeling (BIM) is a process for creating and managing digital representations of physical and functional characteristics of places. BIM can be used to support a wide variety of activities such as facility management, cost estimation, energy modeling, and transportation planning. BIM can be used to create three-dimensional (3D) models, four-dimensional (4D) models (which include time-based information), and five-dimensional (5D) models (which include cost information). BIM can be used throughout the life cycle of a facility, from its design and construction to its operation and maintenance.
There are many advantages to using BIM, including the ability to:
Create a more accurate and detailed representation of a facility
Generate better estimates of a project's cost, schedule, and potential problems
Facilitate coordination and collaboration among all the disciplines involved in a project
Improve the quality of the finished product
Reduce the need for change orders and other forms of post-construction modifications
Enable better decision-making throughout the life cycle of a facility
When to use BIM for natural stone projects?
Depending on the level of aesthetic demands and the optical complexity of the used material, BIM can be beneficial for natural stone projects. When working with homogeneous stone, like slates, basalts or granites, it is sufficient to include a datasheet for the used material in the building model. On the other hand, digital planning is advisable for characteristically veined materials such as marble or quartzite, which require a high level of material and processing effort.
Cases that benefit from digital planning:
Large spaces that require blending a surface with multiple blocks
When high-priced stone is used or a sophisticated design is required
Finding visually imperceptible replacements for broken tiles
Step 1 - digitize the slabs
In today's factories, every stone slab is digitized and recorded in management software. This software tracks the slab's size and thickness, as well as its origin from the quarry and stores a high-resolution image of the slab, which allows for precise digital planning. Even if the supplier does not yet use these methods, there are simple methods for digitizing slabs with a photo booth or smartphone. The advantages and disadvantages of the different digitization methods can be found in a separate article.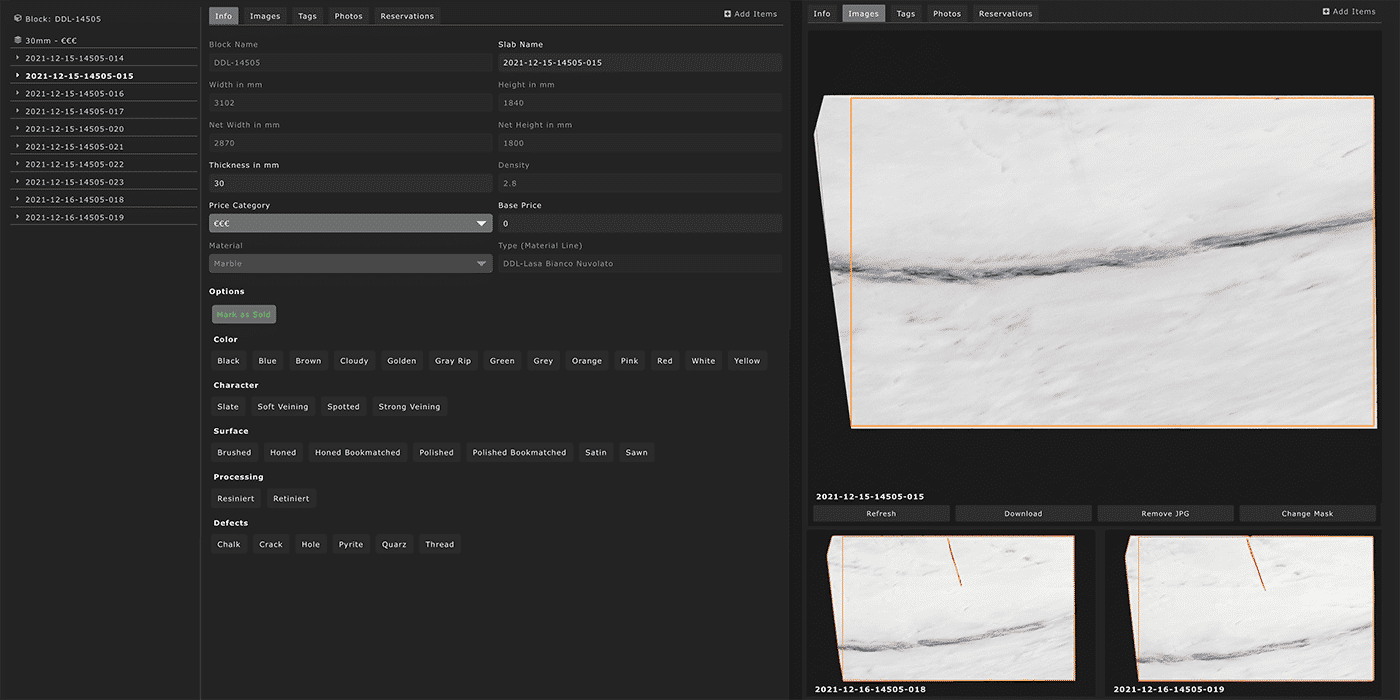 Step 2 - software assisted planning
Digital blending has made its way into natural stone projects, making the process of assembling images into a project much easier and more precise. With digital blending, each stone is positioned precisely in the design, and all necessary data is recorded, making it easier to create a final product that looks exactly like the intended design.
In parallel with the positioning, all necessary data up to the cutting data for the CNC machines are recorded. Reports provide a targeted output of the relevant facts. In addition, images of completely "laid surfaces" are immediately available to the architect, which accurately reflect the later optical appearance. These serve both as a basis for renderings and for a binding production approval process.
Discover our stone planning tool for architects, suppliers, installers and inspectors.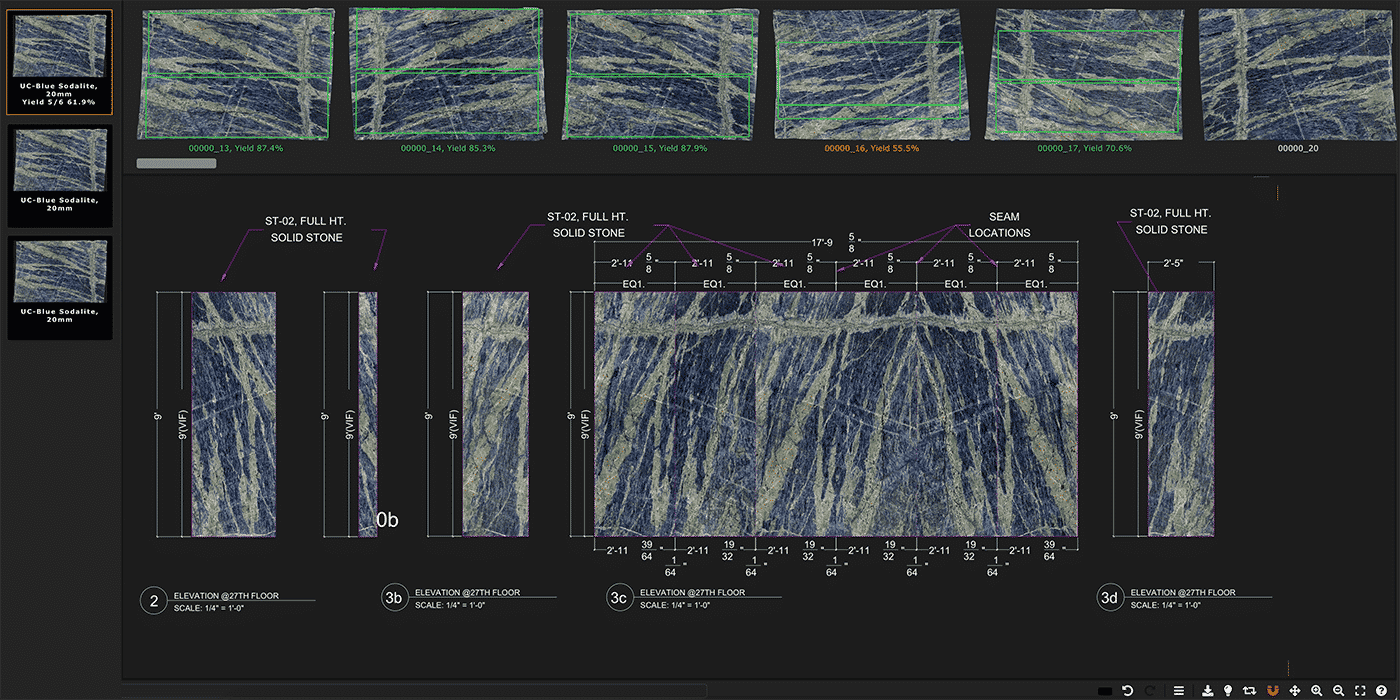 Step 3 - team and data integration
Digital blending is the key to successful digital networking within a project. By coordinating the different trades involved in a project, the quality of the planning process is increased exponentially. In the past, stone slabs were cut to size, laid out dry, and then blended together via an elaborate process for quality control. Today, the planning team can create blends digitally, change them, release them for production, and inspect them during production.
The use of digital blending has accelerated the construction process by allowing errors to be detected at an early stage and ensuring that only matching stones are used in the blending process. This gives architects and suppliers greater control over the quality of the finished product, and makes it easier to position and handle characterful stone slabs.
Extensive reporting evaluates all data relevant to production and maintenance from the blendings and digitized slabs for integration into BIM 360.
When looking at the entire life cycle of a building, these detailed reports of the blends are of great benefit. In case of a necessary replacement, all optical information of the respective adjacent stones is available. This means that replacement tiles can be inserted at any time without any problems. Specifically trained AI matches the "to be replaced" surface with "in stock material" based on color and characteristic veining.
Digital blending is a great way to reduce the carbon footprint of a project. Optimized stone cutting avoids material waste. Targeted, visually accurate planning reduces the need for flights to check the progress. Saving money and time in the process.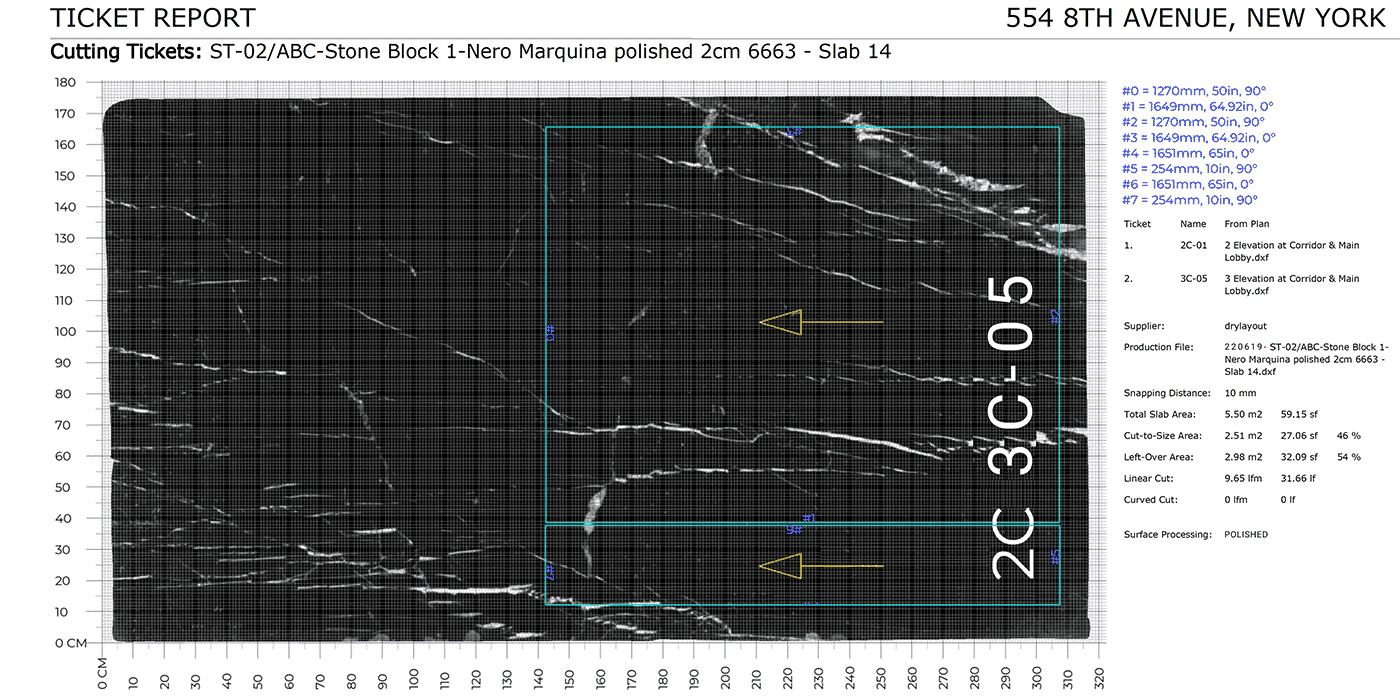 If you're interested in learning more about digital blending and how it can benefit your natural stone projects, please contact us for a consultation.
More from the Inspiration Hub